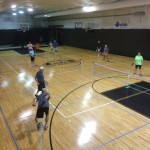 Pickleball
Pickleball at The Factory is geared towards everyone having a great time playing with each other and perfecting their pickleball skills. We have recreational play, instructional classes, beginner classes, and drill sessions so everyone can continue to learn and have fun.
PICKLEBALL COURT RENTALS
Brief Description: Choose an available day & time and rent out a court to use with a private group. Courts must be reserved at the front desk. Reservations are finalized once payment is received. Refunds will be given to cancellations with a 4 week notice.
Dates: Sept-May
BEGINNERS PICKLBALL CLASSES  
CLASS DETAILS:
Pickleball 101: Beginner players will receive an in depth overview of rules, court layout, equipment strategy, and game play.
Pickleball 102: Beginner players will continue to build confidence in their game and develop technique. 
Pickleball 103: Beginner players will perfect their game through skills and drills on the court. 
Dates: September- June
Days: Wednesday's, 10:30am-12:30pm Register Here for Classes
Cost: $20 per class or $55 for all 3 plus a free drop in pass at the end of 103
Classes taught by our Pickleball Coach Doug Worman
PICKLEBALL CLASSES AND CLINICS
Brief Description: 
These Pickleball Classes and clinics are set up for intermediate to advanced players. Learn new moves, tactics, strategies, and more. Each session offers a different theme and clinics are rotated on a regular basis. Check the sign up genius frequently for new classes and latest information. Each session allows for instruction, practice, and play.
We will offer:
Kitchen Play: Learn skills and tactics to improve your "soft game".
Reduce Unforced Errors: This class will help you stop making same mistakes by cutting down on your errors. 
Tactics: Learn how to "not" to play "reaction" Pickleball. Have a plan!
Skills and Drills: Work on each part of your game, serving, return of serve, kitchen play, and ground strokes. 
Each Class and Clinic is taught by Doug Worman, a veteran Pickleball instructor and player.
Dates: Wednesday Mornings
Times:9:00am-10:30am
Cost: $15
4 players needed to hold a class. 
Dates: Sept-June
Days & Times:  Wednesdays, 9:00am-10:30am
Cost: $15
Pickleball Coach and Instructor: Doug Worman
BEGINNER'S PICKLEBALL SOCIAL PLAY
Brief Description:  If you have attended a Pickleball 101 class, this group is your next step to building confidence and skill as a new pickleball player. Sessions are limited to 24 players with Factory staff managing player rotations and answering questions as needed. Equipment is provided upon availability. 
Dates: Sept-June
Days & Times: Monday and Thursdays 12:30-3pm 
 Spring 1: Sign up here Thurdsay
Cost: $8 drop in
OPEN PICKLEBALL SOCIAL PLAY 
Brief Description:  Open pickleball is social play for the intermediate/advanced players. Sessions are limited to 24 players. Staff manages player rotations, time clock, and equipment set up and break down.
Dates:  
Spring 2 Links will be available 4/1/2019 @1pm
NEW FOR SPRING 2
THE 10AM-12:30PM SESSIONS WILL CHANGE TO 9:30AM-12PM
MONDAY 12:30PM-3PM WILL CHANGE TO BEGINNERS SOCIAL PLAY
Days & Times: 
Intermediate Players:
Monday 10:00am-12:30pm
Spring 1:  Sign up here
Tuesday 12:30pm-3:00pm
Spring 1:  Sign up here
Friday 12:30pm-3:00pm
Spring 1:Sign up here
Mixed Intermediate Advanced Players:
Tuesday 10:00am-12:30pm 
Spring 1:Sign up here
Friday 10:00am-12:30pm
Spring 1:Sign up here
Cost: Prepaid $42, 6 week sessions available prior to the start of a new session. Open Drop in slots $8, will be made for available once prepaid has been closed.